Military Unit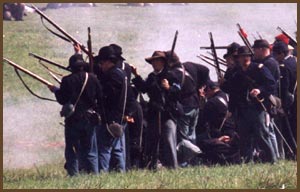 The impression we of the 30th strive to give is that of the AVERAGE Western soldier of 1863. The guideline we try to use is the generality rather than the exception. Some of our members try to give a first person (taking on the persona of an actual person) portrayal, be it a relative or some member of the original 30th Indiana. The majority, however, choose to convey simply the manner and lifestyle of the citizen soldier in the federal Army.


Over the years, the 30th Indiana has gained a reputation as a well drilled and disciplined unit. Believing that practice makes perfect, past and present Command staff has emphasized mastering these soldiering skills. It was discovered that the 30th was instructed using Casey's 1863 drill manual. With recent re-printing of this book, today's 30th is learning this same manual. Constant practice has proven itself as the skill of the men continues to improve.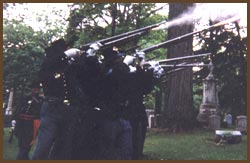 The 30th Indiana is a member unit of the Cumberland Guard.

As was normal for soldiers in the Western Army (units who fought West of the Appalachians), the 30th Indiana wears black slouch or field hats, four button sack coats, sky blue trousers, and Federal issue brogans. The men are armed with a 50/50 mix of 1858 .58 caliber Enfield and .577 caliber 1861 Springfield rifle muskets. Also standard amongst the men are dog tent style shelters and double bag knapsacks.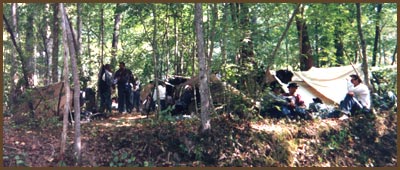 Our company participates in many different activities including school education programs, living history events and battle re-enactments. We added winter drill sessions to keep the men's skills sharp! The 2008 season has found the 30th very active... hosting a ball in March; the 145th Gettysburg Reenactment in July and the Angola, IN Reenactment in September. Take a look at our Events Schedule to see where we'll be next ... we look forward to meeting you in the field!