Homefront
The Homefront representatives of the 30th Indiana Civil War Re-enactors, Inc. are a group of civilians representing the 1860ís time period. As Civil War Re-enactors, we continue to strive for authenticity in our impressions through research, seminars and workshops. Some of our biggest projects over the last few years include a Civil War reenactment in Fort Wayne, Indiana and our annual Victorian Ball.
The Homefront is associated with the 30th Indiana Civil War Re-enactors, Inc. and promotes educational programs, living history events, and gives the civilian side of battle re-enactments.
Members of the Homefront have for the last 8 years successfully presented a Victorian Spring Ball, held in March. We strive for authenticity in food, etiquette, music and dance.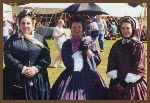 During the Civil War a dance or a Grand Ball was held as entertainment and a way to socialize. A Grand March opens the Ball to honor the Dance Mistress and orchestra. It is the gentlemenís responsibility to make sure the ladies have their dance cards filled, never left alone on the dance floor and always offer refreshment. It is the ladies responsibility to flirt and let the gentlemen provide for her.
Mrs. Susan Pfeiffer, a member of the 30th Indiana, is our dance mistress. A dance workshop is held early in the day to learn the dances that will be performed in the evening. We have an orchestra which provides original music. A full dinner is served with a social hour prior to the Grand March.
With a beautiful ballroom that lends itself well to the 1860 period, our ball is held at The Womenís Club, downtown Fort Wayne, Indiana. We have people who travel from Missouri, Michigan, and Ohio and all over Indiana to attend this event. For ticket information contact spfeiffer@acpl.lib.in.us.
We encourage men as well as women to join the Homefront. Men were civilians before they became military soldiers during the Civil War. There is a great need for men to portray civilian life during the Civil War.